Supporting education, charitable activities & student externships
for Student Members of the NYSAFP
News
Typhoon Haiyan Relief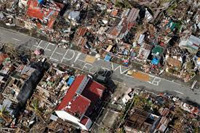 ---
Immunization Project
The NYSAFP has contracted with the NYS Health Department Immunization Bureau for 8 years to develop educational and informational programs to inform family physicians regarding developments in immunizations and vaccine safety.
More Info >>
Who We Are
The New York State Academy of Family Physicians Foundation supports education and charitable activities. The Foundation also supports student externships for Student Members of the Academy.
Learn more >>
---
The NYSAFP Foundation and the American Academy of Family Physicians (AAFP) Foundation are partners in an ongoing effort to promote and enhance Family Practice. We ask you to join us in supporting the NYSAFP Foundation and the AAFP Foundation in the important work they do on your behalf.
The AAFP Foundation is proud to serve the nationwide and international interests of Academy members through research, education, and charitable activities. The AAFP Foundation also assists chapter foundations with resources that enhance core programs. Your support of both Foundations is essential to make a healthy impact at the state level and for the specialty at large.
preceptorships with Family Physicians for medical students
research by Family Physicians through the Practice Based Research Network Research Stimulation Grant Program
research externships and research grant awards programs
the Health Education Program, which produces a database of peer-reviewed patient education materials
scholarships for 4th year medical students in NY who go on to residency training in family practice in NY
the Dr. George Hart Fund which was created in 2012 to commemorate the leadership of George Hart, MD, who served as NYSAFP president, by supporting the participation of resident and student members of the Academy in the annual Winter Weekend ozon which has been held in Lake Placid, NY for more than 35 years
Your support will sustain Family Practice and ensure that these programs receive the funding necessary to operate successfully. Please consider the attached pledge form and note the various recognition club levels. Your pledge can be designated to a specific program in New York or shared with the AAFP Foundation. Also, your pledge can be invoiced on a monthly basis. Please complete the pledge form and fax it to (518) 489-8961 or mail it with your donation to the NYSAFP Foundation at the address indicated above.
Click here to pledge your support (doc)
Thank you.
Sincerely,
Jose M. David, MD
President, NYSAFP Foundation